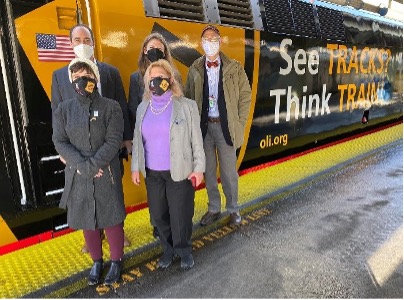 Left: ASLRRA representatives (back row, L to R) Chuck Baker and Sarah Yurasko, along with (front row L to R) Crystal Gitchell and Jo Strang pose with ASLRRA member Henry Posner, III (top right) in front of an Amtrak locomotive commemorating Operation Lifesaver's 50th anniversary. Strang, who is also OLI's board chair, spoke at the locomotive's unveiling today at Union Station. (Photo from Views & News, ASLRRA)
IAIS Chairman, Henry Posner III, was present at Union Station in Washington, D.C. on January 12, 2022 to witness the unveiling of the Operation Lifesaver commemorative Amtrak Locomotive. Operation Lifesaver is celebrating its 50th anniversary in a yearlong celebration in 2022. The Locomotive is painted in a custom paint scheme with the organization's slogan on the side, "See Tracks? Thank Train!".
Operation LifeSaver (OLI) is a non – profit organization that was established in 1972 to address the rising number of Highway Grade Crossing accidents. BY 1986 this non-profit expanded to help support and coordinate the efforts of Operation Lifesaver Nationwide. Today this program is sponsored by various federal, state, and local agencies, as well as America's railroad systems.
IAIS Chairman, Henry Posner III, continues his support through funding, grants and volunteering. This effort assists in the creation of media related resources, distribution of resources and education.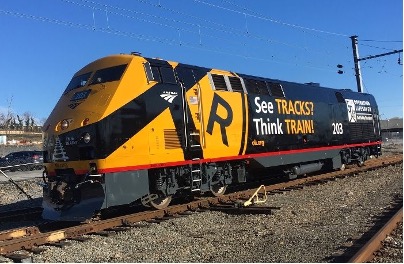 Left: OLI's commemorative locomotive is painted in a custom black and yellow color scheme with one of the organization's slogans on the side, "See Tracks? Think Train!" (Photo from media.amtrak.com)
See the full details at https://oli.org/about-us/news/amtrak-unveils-commemorative-operation-lifesaver-50th-anniversary-locomotive