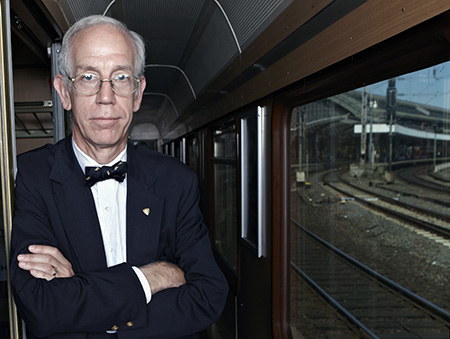 As Chairman of the Iowa Interstate, it is my honor to welcome you to the re-launch of our website. While our website is refreshed and hopefully more interesting and useful, nothing has changed about our substance, which is in descending priority order:
Safety-We are a company focused on safety. A safe company is most likely to be providing good service, which results in growth, which results in profitability, which permits reinvestment.
Growth-Growth is reflected in capacity-related investment, most visible in our yards at Silvis and South Amana and our terminals at Newton and Council Bluffs.
Investment -To our customers, employees and even the casual observer the investment is here for all to see. This ranges from our infrastructure to our locomotive fleet—the youngest in the industry—to our dedicated locomotive maintenance facilities in South Amana and our car repair facilities in Silvis.
Value to our communities-Our working relationship with our communities goes beyond industrial development. For example, elsewhere on our website you will see how we work with first responders through both emergency response training and fundraisers.
Our role in the national rail network-We are proud of our unique history, beginning as a formerly- abandoned Rock Island main line paralleled by three Class 1s. Our markets have both grown and diversified, ranging from expansion with existing customers, to new customers whose facilities have been located on the IAIS precisely because we provide access to the national network, to non-traditional services (at least, for a railroad of our size) such as double-stack container service. Our ability to provide a broad range of services has positioned us to grow with businesses that did not exist at the time of our foundation, such as ethanol and windmills.
Our role in the global rail industry -The Iowa Interstate has served not just as a model for the USA, but for the world, as reflected in the demographics of our visitors, who have ranged literally from A to Z (Argentina to Zimbabwe).
In the months ahead, I will edit this message to reflect both the evolution of our company and the environment in which we operate. But what will not change is my personal pride in being associated with a company that has come so far since its formation in 1984 and our initial investment as minority shareholders in 1991.
Sincerely,
Henry Posner III
Chairman