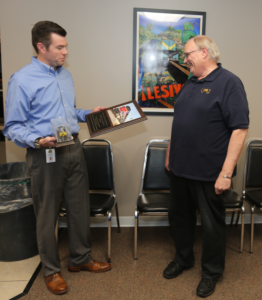 Rob Wolfe began his railroading career with the Rock Island Railroad in 1977 as a clerk/operator in West Liberty, Iowa and recently retired from IAIS in November 2016 as a Customer Service Representative. Rob's railroading career included working for the Iowa Railroad Company and the St Louis Southwestern Railroad before coming to Iowa Interstate Railroad. Some of the jobs Rob held during his 39 years of railroading: Train Order Clerk, Yard Clerk, Interchange Clerk, Intermodal Clerk, Freight Agent, Demurrage Clerk, Crew Caller, Train Desk Clerk and Manager of Customer Service.
Rob's genuine concern about his customers and company was apparent by how well he took care of them. Rob's knowledge was sought after by customers, co-workers and "old heads" who got know him very well; he played a very critical role in training many new hires that came through our doors.
Looking back at Rob's initial resume' he had experience on equipment such as teletypes and typewriters, electric and manual. On his last day, he commented that his advice to those who continue to work in the railroad industry is to always expect change. Times have certainly changed and we're lucky to have had Rob as a member of the Iowa Interstate family for 30 years and are delighted he is now enjoying a well-earned retirement.