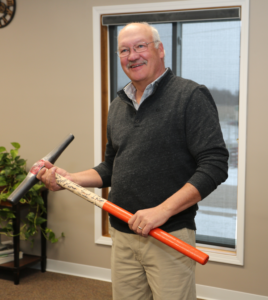 Scott F. Woodward retired as Chief Engineer from the Iowa Interstate Railroad on December 16, 2016. Scott joined the Iowa Interstate in 2004 as an Engineer, Maintenance of Way; he was rapidly promoted to Asst. Chief Engineer and subsequently appointed as Chief Engineer on January 1, 2012.
Scott began his railroad career as a Trackman in 1973 working summers at Lake Superior & Ishpeming Railroad while attending college. He has held various Engineering Management Positions including the Chicago and Northwestern Railroad, Union Pacific Railroad, Wisconsin Central, Estonian National Railroad, and the I&M Rail Link, presiding as the Chief Engineer.
During his career, Scott maintained thousands of miles of track and was responsible for many multi-million dollar capital improvements. His experience with track maintenance, budgeting, planning, structures, and governmental regulations made him an indispensable asset. One of his best attributes was his sense of humor; his presence could lift the spirits of all around him.
Mr. Woodward graduated with his bachelor's Degree in 1978 from Michigan Technical University. He and his wife, Suzanne, are avid golf players and enjoy spending time with their children and grandchildren.