For Immediate Release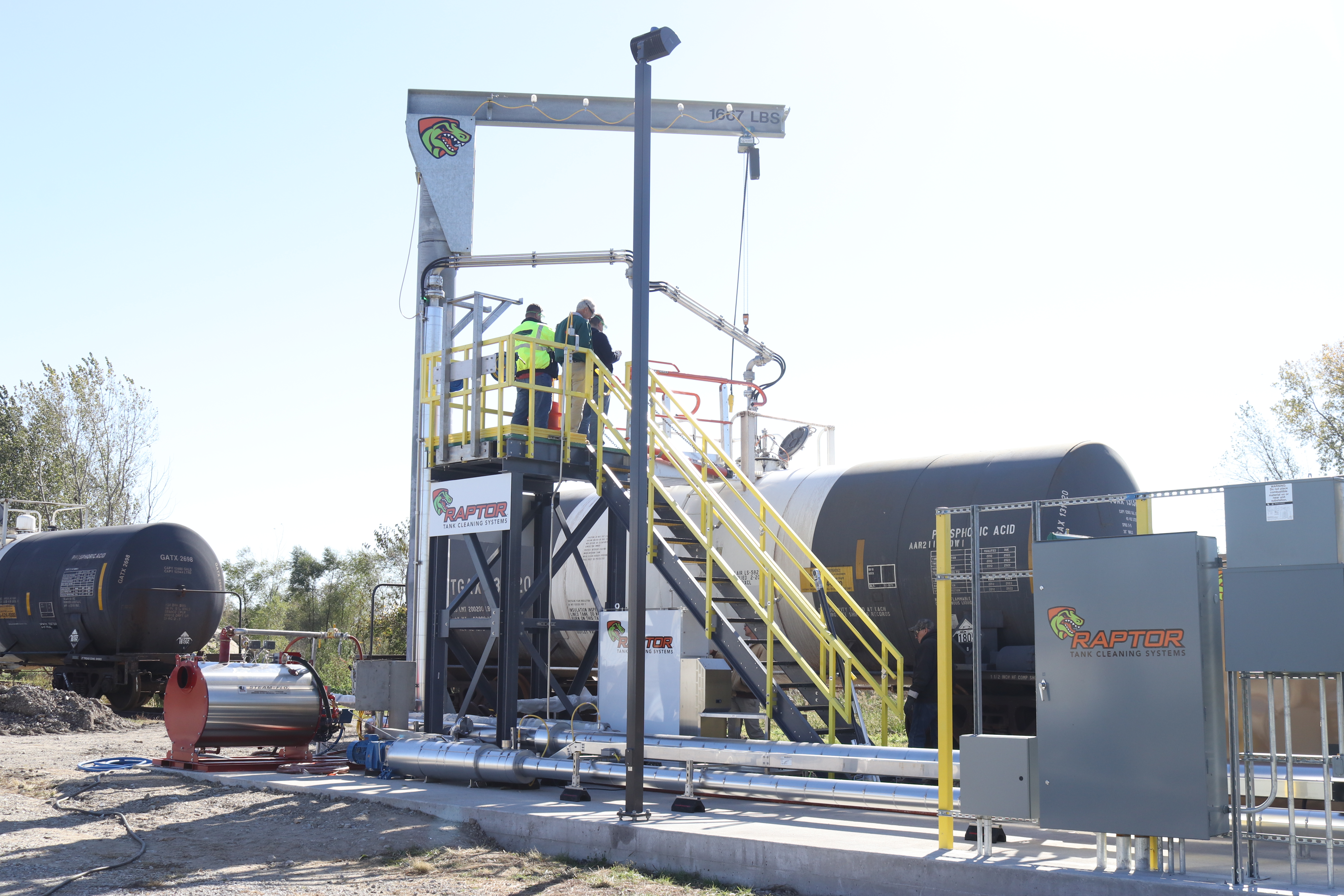 Twin State Environmental has opened Raptor® Tank Cleaning Services, a Railcar Cleaning facility for tank cars and hopper cars located in Durant, Iowa on the Iowa Interstate Railroad (IAIS) with connections to all US Class 1 carriers.  This new operation features the Raptor® Tank Cleaning System eliminating human confined space tank entry by incorporating automation and robotics to guarantee a superior clean.
Founder and Chief Technology Officer Scott Tinsman III stated, "the Raptor® was developed and engineered based on years of industry experience. It utilizes robotics and automation to ensure the complete removal of heel and build-up from hopper and tanker railcars. This safe, economical and unique cleaning technology removes the need for anyone to enter a tank while it contains product. The Raptor® handles liquids, solids and sludge in all types of hazardous, non-hazardous and feed-stock materials including acid, asphalt, crude oil, vegetable oil, animal fats and tallow."
With the ability to offer Kosher washes, Raptor® is strategically located in the Mid-West to service numerous customers including those following Kosher practices. Carrie Evans, vice president of sales and marketing for Iowa Interstate Railroad welcomes Twin State Environmental's Raptor® Tank Cleaning Service cleaning operation to its diverse portfolio of existing customers on its line. "This is a valuable service to many customers in the tank car industry and we are excited to have this ideally located option available," said Evans.
The Raptor® system can handle any amount of heel, even in excess of 10,000 pounds. This new, safe and very efficient system minimizes cleaning time, maximizes shipment volume and reduces freight costs, changing railcar cleaning economics from a "have to" to a "want to" for many customers.
"Our Raptor® Tank Cleaning System typically cleans a tank in hours allowing a railcar to return to service in days, not weeks," stated Charles (Chip) Lee, Jr., Twin State Environmental President.
Twin State Environmental also sells and installs Raptor® Tank Cleaning Systems and railcar cleaning equipment and engineered systems. For more information, visit www.raptortank.com .
For additional information, contact Charles (Chip) Lee, Jr. at Clee@tsenv.com or 563-359-3624